Uniforms are back for the 2021-2022 school year. One new addition is students may wear black bottoms. Students may wear jeans (no holes) every day, and on Fridays a Pershing spirit shirt or college shirt may be worn.  If you need assistance with purchasing a school t-shirt or sweatshirt, please reach out to your counselor.
Purpose of the Dress Code
Ensure a safe learning environment.
Promote a climate of effective discipline that doesn't distract from the educational process.
All students will be checked prior to entering the building to ensure that dress code is being followed. Students who are out of dress code will have to call their parents to bring their dress code clothing or they will be placed in In-School Suspension for the day.
All Clothing
Clothing must be solid colors, without variations or patterns.
Clothing must be clean, neat, and mended. Clothing must not contain rips, holes, cuts, etc., that extend through the fabric.
Clothing must be properly fitted. Clothing should be neither skin-tight nor excessively baggy.
2021-2022 Dress Code
Shirts and Tops
Note: These are the only styles of shirts that are acceptable

All shirts must be a suitably sized short sleeve or long sleeve crew neck or "polo" style shirt. Crew neck shirts must be solid-colored with "Pershing" logo on it. Polo style shirts must be solid-color and be free of any logos. Shirt sleeves cannot be rolled up. No "tall" or oversized shirts are allowed.
Pershing Dress Code shirts will be available for purchase at the School Store. Students who need assistance in purchasing dress code shirts should see their counselor.
Grade Level Colors

6th Graders: GRAY polo shirts or Pershing grade-level spirit shirt.
7th Graders: RED polo shirts or Pershing grade level spirit shirt.
8th Graders: BLACK polo shirts or Pershing grade level spirit shirt.

Only white undershirts or undershirts that are the color of the grade level are allowed. Undershirts may be shown under the outer shirt as long as no writing/graphics are visible. Undershirts must be tucked in.
On Fridays, students may wear approved Pershing spirit shirts, college shirts, or Pershing club/team shirts (band, student council, sports, dance, theatre, etc.) Shirts must have sleeves.
Pants, Capri Pants, Skirts, Skorts, and Shorts
Must be solid-colored khaki tan or black bottoms.  Jeans are allowed and cannot have rips, holes, or cuts.
Pants must not fall below the waistline. No sagging pants allowed.
Skirts/skorts/shorts length must be knee length (No jean shorts).
Only solid tan, solid white, or solid black leggings may be worn under skirts; length of skirt must be the same with or without leggings.
Oversized, undersized, tight-fitting, spandex, torn pants/shorts/skirts will not be permitted.
The legs of pants/shorts cannot be rolled up.
Stripes, embroidery, patterns, and logos are not allowed.
Nylon fleece and sweat pants are not allowed.
Standard solid blue denim jeans fitted at the waist and extending to the ankle.
Acceptable Jeans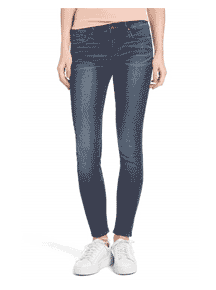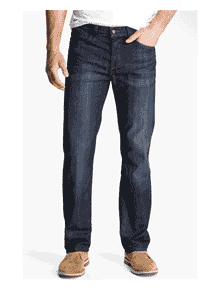 Unacceptable Jeans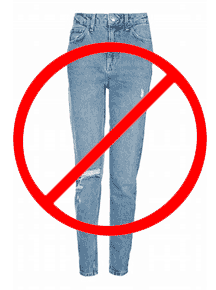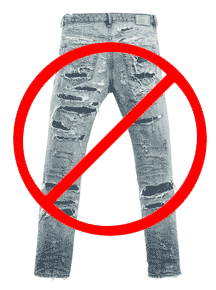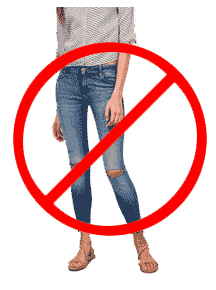 Shoes
Shoes must be worn at all times.
Shoes with rollers/wheels underneath are not permitted.
For safety reasons, platform shoes, spiked heels, combat boots, steel-toed boots, or any backless shoes (including clogs, house shoes, flip-flops, and sandals) are not allowed.
Identification Cards
Student identification cards must be attached to a lanyard worn around the students' neck and visible at all times.
Students are not allowed to deface identification cards. Information on the ID must be clearly visible.
Replacement "ID" cards cost $5.00. Lanyard replacement is $1.00.
Outer Garments
Sweatshirts/sweaters that are a solid color with "Pershing" logo may be worn in the classrooms. They must be in their grades' assigned color (Grey for 6th grade, red for 7th grade, and black for 8th grade).
Blankets are never allowed on campus.
Additional Dress and Grooming Regulations
Oversized purses/backpack purses (anything larger than 8 ½ by 11 inches equal to the size of a sheet of paper) will NOT be allowed in classrooms.
Jewelry that distracts from the educational process is not allowed. This includes anything depicting gang membership, death, suicide, violence, the occult, drugs, sex, race, gender, obscenities, alcohol or anything else deemed inappropriate.
Wallet chains or dog collars are not allowed.
Head wear (hats, caps, bandanas, scarves, headbands, etc.) or hair grooming devices (combs, picks, etc.) are not allowed. Head wear worn for religious purposes is always allowed.
Sunglasses are not allowed.
Tattoos or a marking from markers or pens on exposed skin are not allowed.
Only piercing in the ears is allowed.
Additional Dress and Grooming Regulations
A polo shirt is not required, but a shirt with sleeves must be worn.
Shirts do not have to be grade level color and do not have to be a solid color.
Clothing may not have any ornamentation which is disruptive or offensive.
Sweat pants, fleece pants, pajama pants, spandex pants, etc. are not allowed.
Skirts/skorts/shorts length must be knee length.
Oversized, undersized, tight-fitting, torn pants/shorts/shirts will not be permitted.
The school administration is the final arbitrator on what detracts from the educational process.
Last modified July 20, 2021